Creating a website or blog using WordPress is made easy now. There are almost 30% of websites are made using WordPress. By the end of the article, you will learn about starting a blog on a WordPress website in just minutes.
Before proceeding, why you need a blog? Many people make money using a blog and make a living out of it. Just try it and test your skills in blogging.
You don't need any coding language like HTML, CSS, or Web development to create a professional blog. I have explained in detail step by step.
What we need to start a blog in WordPress:
Firstly, we need hosting and domain. Don't worry, I will explain to you what they are if you're a pure beginner.
What is Domain?
A domain is a web address where your website can be reached if somebody wants to access your website or blog. For example, this blog smartsuman.com, you can have any extension like .com .in or net and many more according to the availability of the domain and need.
What is Hosting?
Hosting is a web space where your website or blog files like databases, images, and more will be saved and served on the internet. It's important to choose the best web hosting because the blog needs to be online every time with good server response time and the best support system to help you if you have any issues.
In that case, I do prefer GreenGeeks to host your website because it is the topmost hosting in the market with great features like unlimited webspace, SSD Raid 10 storage, LiteSpeed Server, and advanced security. I mostly love their support system guys they come online in seconds after you open the chat window.
GreenGeeks Pricing and Best Plan:
There are different types of hosting available with different plans and prices but we choose shared hosting in this article. Go to Shared Hosting and you will see three different plans as shown below. Let me suggest the best plan for you to choose.
Lite Plan is a low-priced plan but there are limitations on it like single website hosting with limited webspace. Lite Plan starts at $2.49 per month which is best for beginners who are planning to create only one website.
Next, we have Pro & Premium, but we only talk about Pro here as it most cost-saving for beginners and helpful for everyone. In the Pro plan, you can host unlimited websites and also get unlimited web space, you can create as many websites as possible in the future. That is the beauty of the Pro plan and I recommend everyone to go with Pro Plan only because in case if you want to create more websites in the future, you can simply add a website and create another one. Pro plan starts at $4.95 per month.
With every plan, you get a free domain for 1 year. You saved $15 in a domain. If you already bought somewhere else, you can simply connect Domain with GreenGeeks. Simple right.
How to Buy GreenGeeks Hosting:
Go to GreenGeeks.com
Click on Shared Hosting
Choose Pro Plan if you can or go with Lite plan, for demo purpose I am choosing Pro Plan
Next step, you can register a free domain or if you have a domain, enter its details.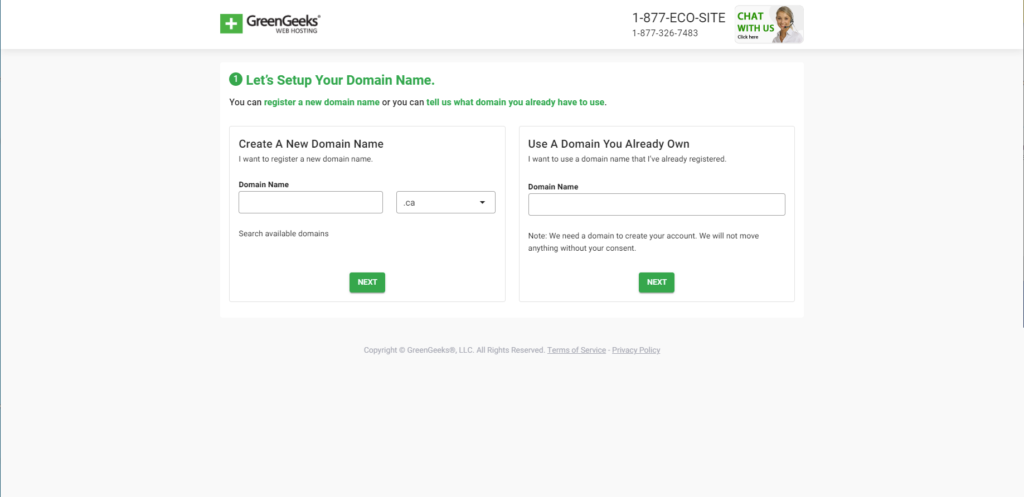 Enter your details and payment information to check out the order.
Checkout out the current offer with the below link. It is a personalized offer with the best discount. Check your offer below.
After the payment, you will be redirected to log in and enter your login details. You should see a quick launch wizard-like below. Just click on Launch a New Website.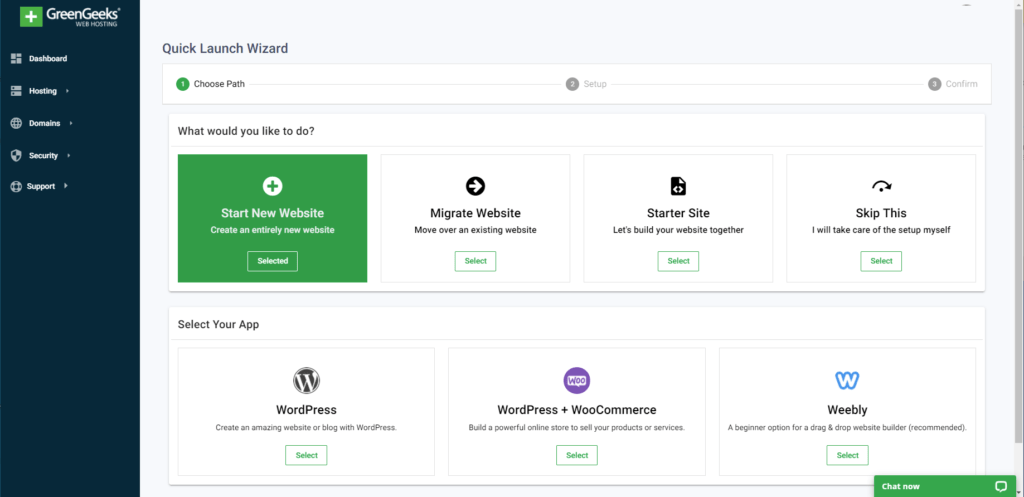 And then, right now we are creating a blog, we just need WordPress. So click on WordPress.
You can see a bunch of different themes and plugins to select, just select anything randomly. We can customize everything later.
Voila! The website is ready and running up. If you want to manage click on Manage or else you can go with WP dashboard.
How to Change Theme in WordPress:
Just go to appearance and themes. You can install themes by uploading them if you have purchased any premium themes.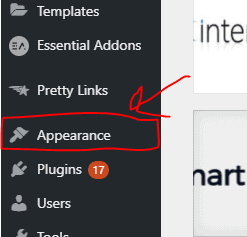 I recommend Astra, OceanWP, and GeneratePress. These three are the top themes available in the market.
You can the website from scratch using the Elementor plugin which is a free plugin with a lot of awesome features.
How to Write a Blog Post:
Just go to posts and write a post by clicking on New. You can use plugins like RankMath and YoastSEO for SEO suggestions. I use RankMath on all my blogs.
Optimize your website on-page SEO for organic rankings in google search results.
Finally, You have just created a website using WordPress in minutes and running up professional themes and plugins.
Get Hosting from GreenGeeks for better performance and support. Check your offer now. To start a blog in WordPress now.
Please let me know your thoughts on the comments below.